The Neighbors
The Neighbors has concluded its run after 2 seasons.
Original run: 2012 - 2014
Network: ABC
Genre: Comedy
Synopsis (also check out the trailer below):
The Neighbors revolves around a typical family (with Lenny Venito and Jami Gertz as parents) that moves to a new neighborhood. At first the Weavers are puzzled by the weird behavior of their new neighbors, who are named Larry Bird (Simon Templeman), Jacky Joyner Kersee (Toks Olagundoye), Reggie Jackson and Dick Butkus. Finding out that their new neighbors are actually disguised aliens doesn't stop the Weavers from developing a very interesting relationship with them, where both sides can teach each other a lot.
Most recent episode: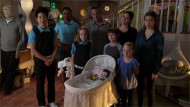 S2E22 - Apr 11th, '14There Goes the Neighbors' Hood
Next episode:
- No next episode -